Homemade Ancho Chile Powder is a quick way to bring smoke, spice, and even a touch of sweetness to your dishes. It's great to have on hand to add depth to rubs, chilis, marinades, or sauces. Read on to learn more!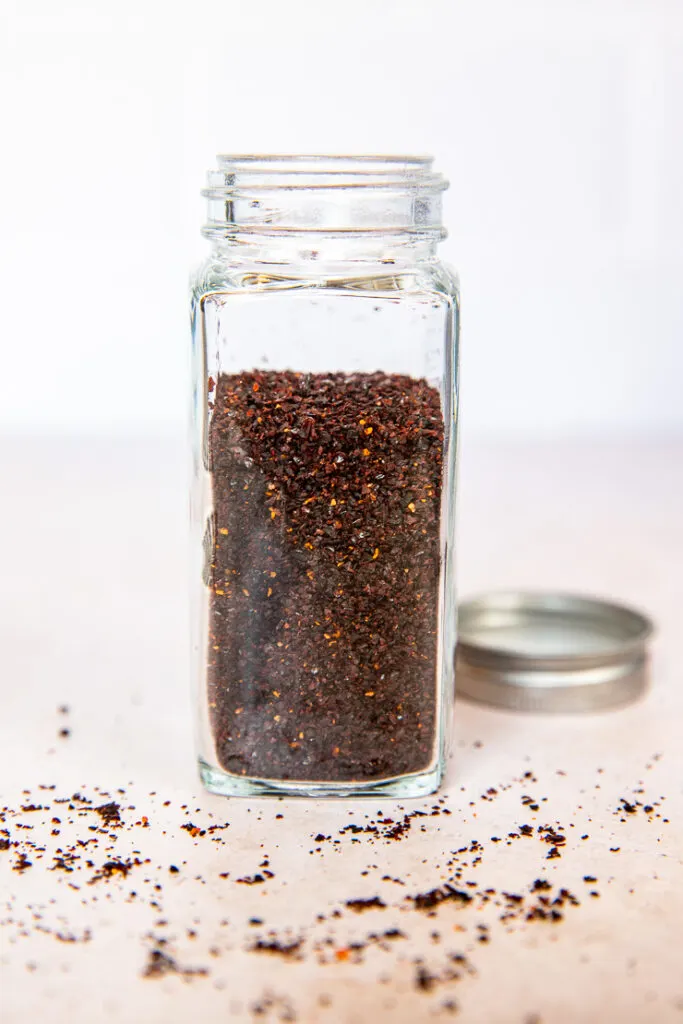 Homemade Ancho Chile Powder
If you love adding smokiness and spice to your dishes, then homemade Ancho Chile Powder is a must-have in your kitchen.
This spice, deeply rooted in Mexican cuisine, offers a wonderful blend of fruity flavor, earthy, mild heat, and slightly sweet notes that can elevate the taste of a wide array of dishes, ranging from soups and sauces to meat and vegetable-based recipes.
The Culinary Compass participates in several different affiliate programs. As an Amazon Associate, we earn from qualifying purchases.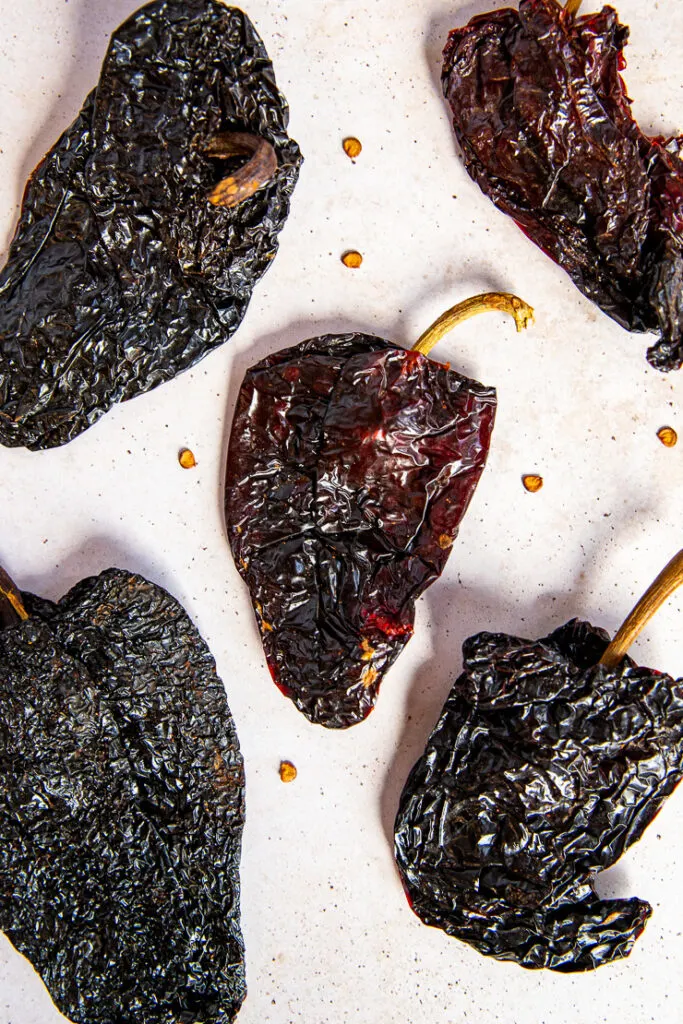 Origins
Ancho chiles come from the dried poblano pepper, scientifically known as Capsicum annum. The word "ancho" itself means 'wide' in Spanish, a fitting name due to its broad, heart-shaped appearance.
The chile is a commonly used dried chile in Mexico and traces its roots back to Pueblo, Mexico.
Traditional Uses
It is is deeply tied to Mexican cuisine and has been long used to enhance the flavors of dishes. It plays a vital role in creating classic dishes such as chiles rellenos, tamales, adobo marinade, and red mole sauce.
Its thickening properties make it a great choice for sauces and stews, giving them a rich and flavorful texture.
Flavor Profile
Ancho chiles are known for its mild spice level which makes it approachable even to those who are sensitive to heat. Its flavor profile is a delightful combination of fruitiness, with underlying hints of coffee, tobacco, wood, and plum or raisins.
On the Scoville scale, which measures the spiciness of chili peppers, it typically ranges between 1000 to 2000 heat units, which most would consider a pleasant but not overwhelming level of heat.
Appearance
When freshly dried, Ancho chiles have a deep purple or deep red color to black color and measure between 3 to 4 inches in length. They should still retain some flexibility which shows they are not completely dried.
Spice Pairing
Ancho Chile Powder pairs well with other spices such as cumin, garlic, orange peel, and oregano.
One combination worth highlighting is using it alongside paprika. This combination brings out the best in both spices, creating a delightful symphony of flavors.
Food Pairing
It's versatility allows it to be used in a wide range of dishes.
It complements the flavors of cashews, sauces – especially mole sauces or enchilada sauces, soups, turkey, chile con carne, taco seasoning, tortilla soup, salad dressings, as well as eggs, potatoes, pork, and chicken dishes.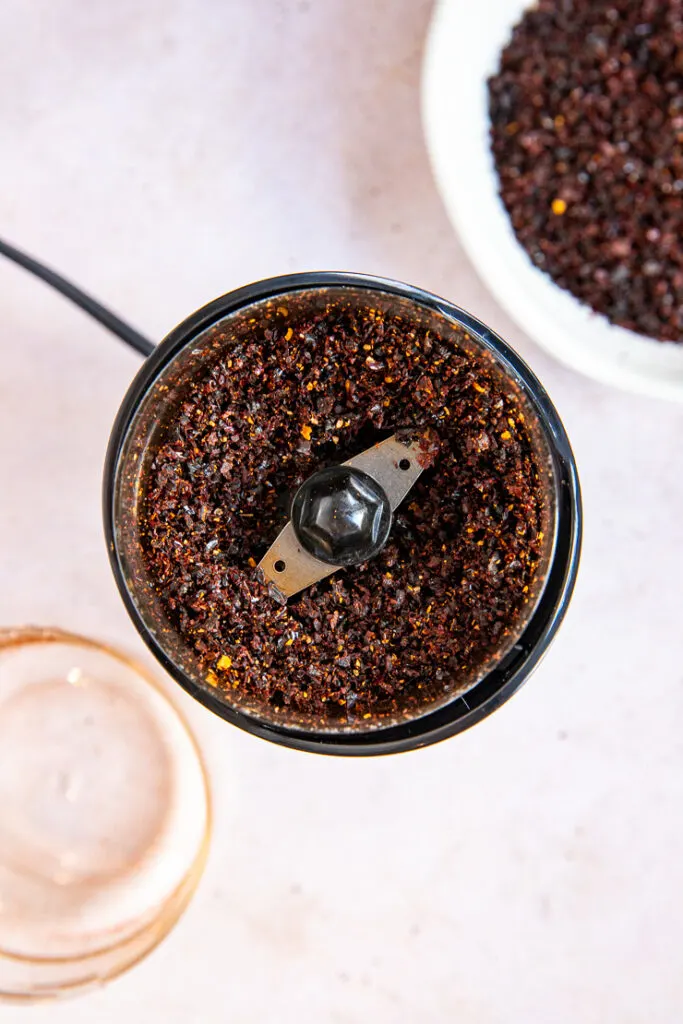 How to Store
To maintain its freshness and flavor, store homemade spices in an airtight container, away from direct sunlight, heat, and moisture. Proper storage will ensure the spice retains its quality for several months, if not longer.
Substitute for Ancho Chile Powder
If you can't find Ancho Chiles or simply want to try something different, you can use pasilla chiles, Mulato chiles, Chipotle chile, or Guajillo chiles as substitutes. These chiles offer similar flavor profiles and low to medium heat levels, making them suitable replacements in most recipes.
Depending on the dish, chili powder may be a good alternative, but since the flavor profiles of both vary widely, you'll want to consider how it may change the overall dish.
Where to Buy
Look for Ancho Chile Powder in specialty grocery stores, Mexican markets, and online spice retailers. Look for reputable brands that offer high-quality, authentic spices for the best results.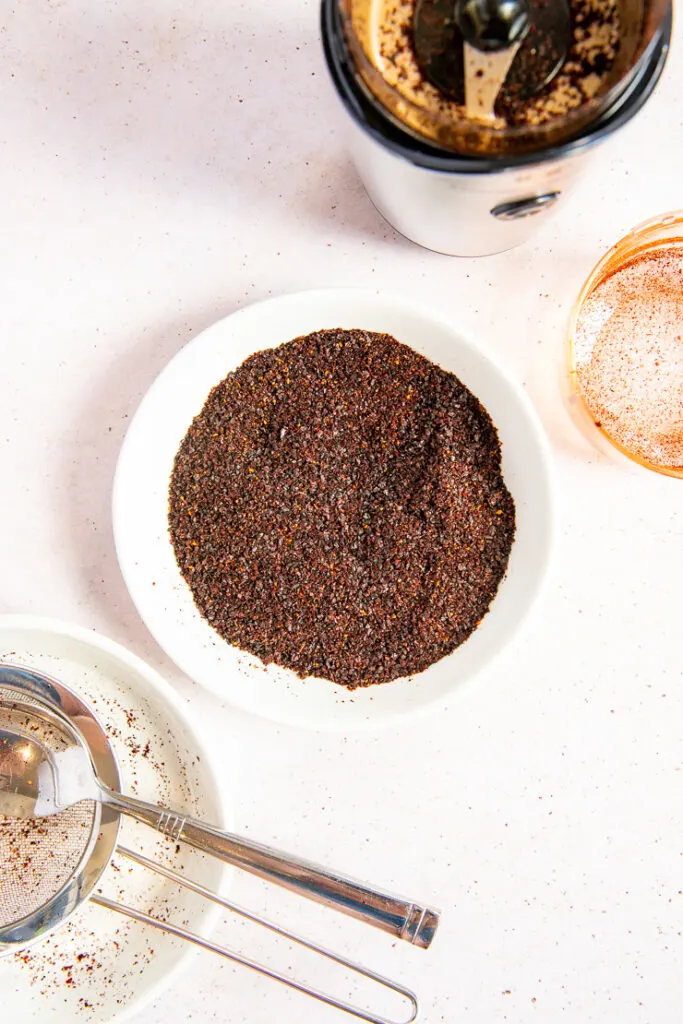 What does Ancho Chile Powder taste like?
Ancho Chile Powder adds a complex and balanced taste to your dishes. Its fruity notes complement a variety of ingredients, while the subtle smoky flavor enhances the overall depth of flavor of the dish.
The mild spice level makes it a versatile spice suitable for a wide range of recipes, from delicate soups to hearty homemade chili.
What is the difference between Ancho Chile Powder and Chili Powder
It's important to note that Ancho Chile Powder is not the same as Chili Powder found in grocery stores.
While both contain ground chiles, chili powder is typically a blend of spices like cumin, garlic powder, Mexican oregano, cayenne pepper, and paprika. Ancho Chile Powder is made only from dried Ancho chiles. They have a milder heat level and a fruity, slightly sweet flavor profile with notes of coffee, tobacco, wood, plum, or event faint raisin taste.
If a recipe specifically calls for chili powder, it likely requires the specific blend of flavors that come from the other ingredients. In such cases, using only Ancho Chile Powder may result in a slightly different taste, as it lacks the additional spices found in chili powder.
Recipes with Ancho Chile Powder
If you're eager to try out Ancho Chile Powder in your cooking, check out these recipes: