This Pull Apart Garlic Bread will sure to be a hit with it's herby flavors! Learn how to make cheesy pull apart bread in just a few steps.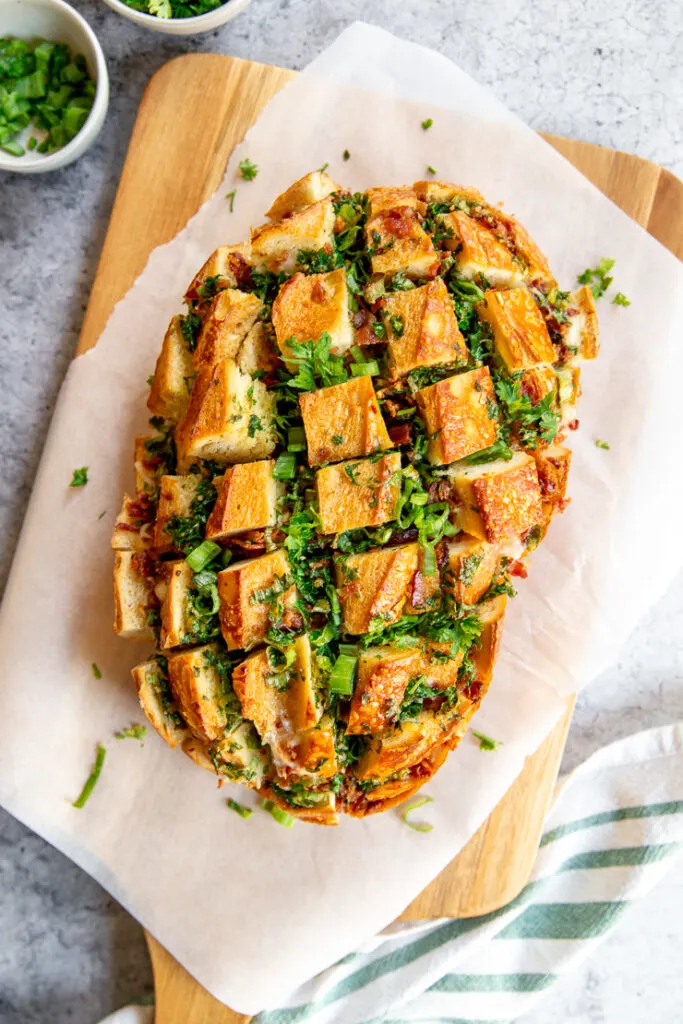 Pull Apart Garlic Bread
Making appetizers for friends and family must be some sort of love language because this Pull Apart Garlic Bread recipe might be a new favorite!
You may have heard of Pull Apart Garlic Bread as 'Crack Bread' – both for it's signature 'x' pattern, but also because you can't stop eating it once you start!
It's a perfect loaf of bread that has cuts in it that don't go all the way through the bread. That's key to making sure that all of the yummy cheese, bacon, herbs, and butter don't slip through to the bottom.
The pull apart bread works great for tailgating or get togethers, too! It's the perfect addition for those events. The reactions you'll get with the cheese pulls are the best!
The Culinary Compass participates in several different affiliate programs. As an Amazon Associate, we earn from qualifying purchases.
What ingredients do I need to make Pull Apart Garlic Bread?
You'll just need a few ingredients to make this pull apart garlic bread recipe –
A loaf of crusty bread
Shredded Monterrey Jack cheese and shredded White cheddar cheese
Real Bacon Bits
Salted butter
Minced garlic
Olive oil
Fresh parsley
Green onions
Dried mustard
Ingredient Substitutions
If you only have unsalted butter, add in some salt or garlic salt to make up for the missing amount.
Garlic powder can be added to the butter mixture to make a garlic butter for more flavor, or in case you're missing fresh or minced garlic.
Should I use a block of cheese or shredded cheese?
You can use either! Using shredded cheese kept the prep time down and the cheeses are usually pretty easy to find at your local grocery store.
BUT using a block of cheese is a great option, if you can find them! You'll just want to cut the slices thinly and put them into each crack of the bread so it can melt all together.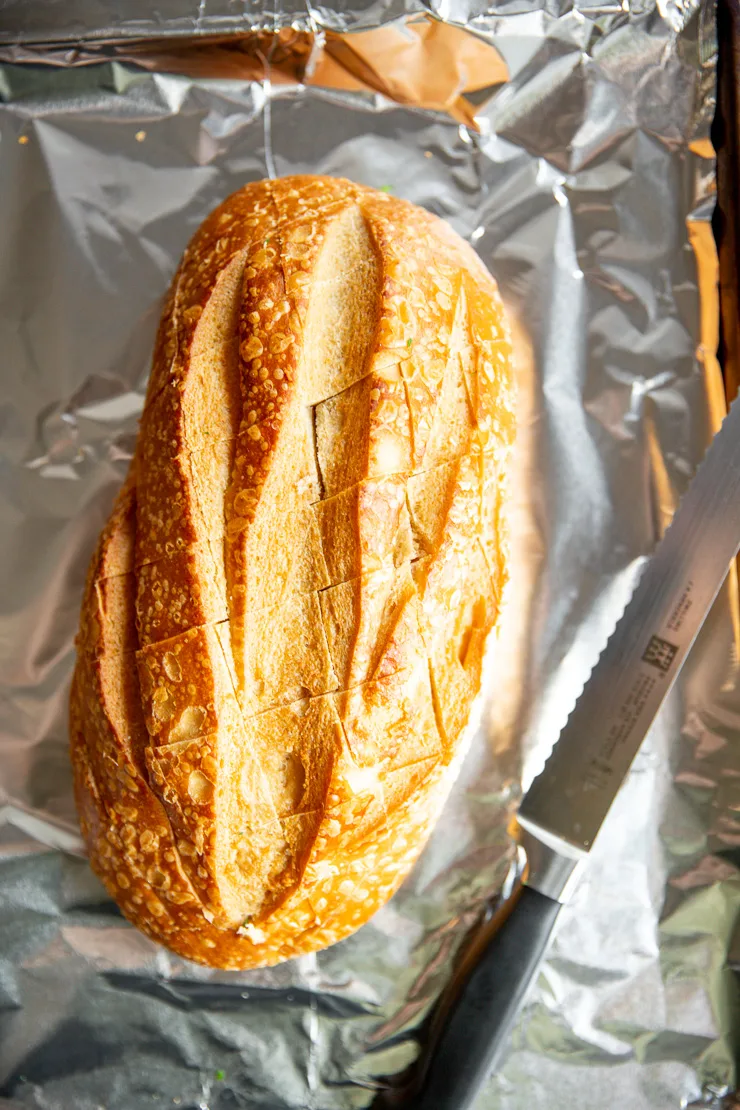 I'm excited to join back up with my friends over at the Freaky Friday blog hop where we get to try making recipes from another blogger's site. It's all a surprise until Friday morning where everyone gets to see the fun recipes we've all made.
Michaela from An Affair from the Heart has done an amazing job coordinating the whole thing and has created such a fun experience for everyone involved. It's definitely one of my favorite blogger events I've gotten to take part in!
Speaking of Michaela, I had the honor of creating a recipe of hers this time! She loves entertaining and has plenty of simple and yummy recipes that help you do that with ease.
When picking out a recipe for today, I spotted all sorts of Tailgating recipes that I can't wait to try this fall! Like check out this Jalapeño Popper Dip, Reuben Burger, and Breakfast Sliders (yum!?)
See all of our 2022 Freaky Friday Summer Edition Recipes
Hosted by –
An Affair from the Heart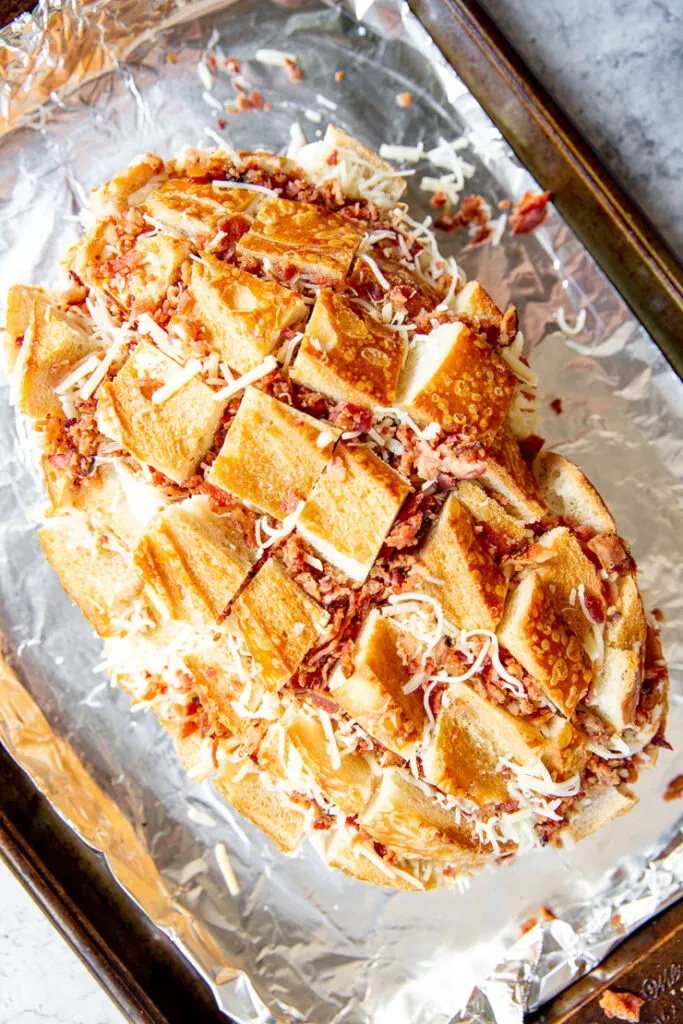 Can I make my own bread for this recipe?
Definitely! If you're a lover of baking, this would be a great way to highlight your talents.
Michaela from An Affair from the Heart has this No Knead Crusty Dutch Oven Bread that would be perfect to make for this recipe!
All you need is all purpose flour, salt, active dry yeast, and room temperature water to make an easy dough!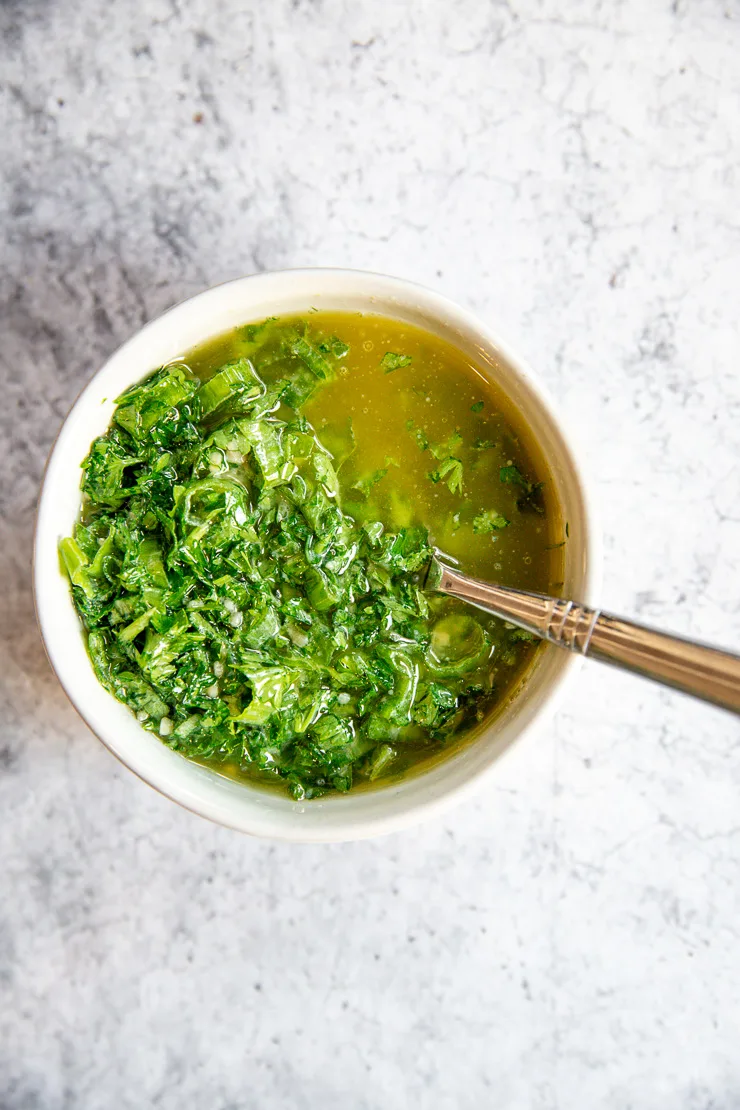 Can I make Pull Apart Garlic Bread ahead of time?
To keep the bread from getting too soggy, I would avoid assembling the whole dish until you're ready to serve it.
If you're making it later the same day, you can prepare the bread and ingredients so you're ready to assemble when the time comes!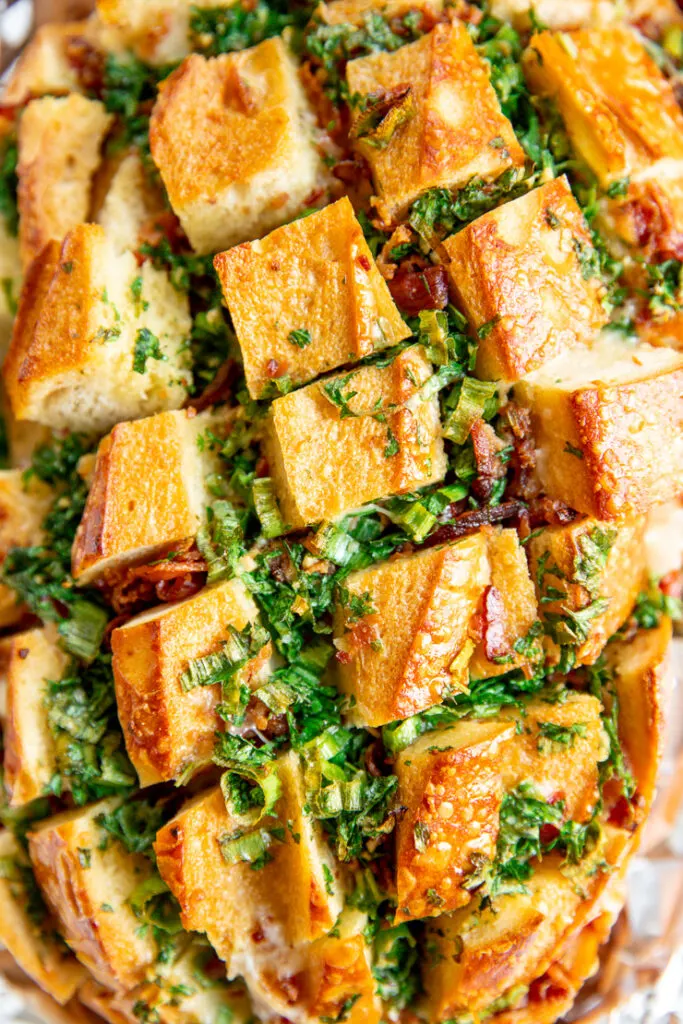 Serving Pull Apart Bread
Depending on the event you'll be serving it, you can take it out of the oven and place it right on a platter so your friends can tear into it themselves.
Another option would be to cut through the rest of the bread so it's easy to pick apart. This option might give you less dramatic cheese pulls, but is definitely the easiest way to serve it!
Pull Apart Bread Variation
If you're feeling like you're in a pizza mood, you can replace the bacon bits with pepperoni and serve it with some pizza sauce or marinara for dipping!
This would also be great with using fresh pizza dough as your bread! Just roll it into small balls squished next to each other and fill it up the same way with the toppings! Maybe swap out the Monterrey jack for some Parmesan cheese for even more of a pizza flavor.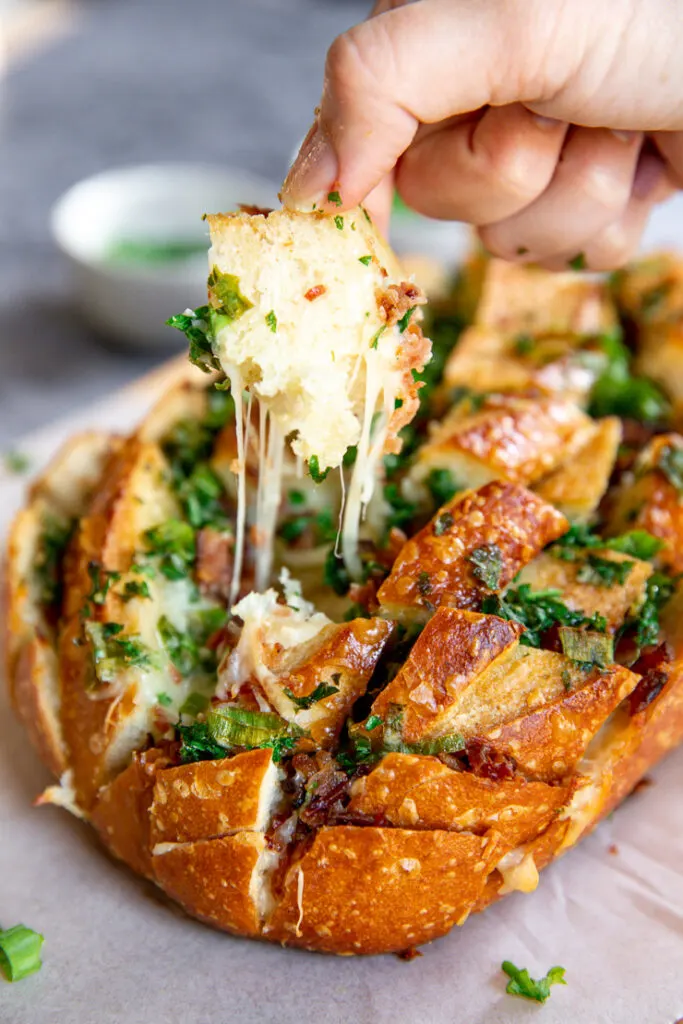 How to make Pull Apart Garlic Bread
Preheat your oven to 375°F.
With a serrated knife, diagonally cut the bread without cutting all the way through, leaving about 1-2 inches between cuts. Do the same going the other direction to get an "X" pattern leaving small squares.
Place bread on a large sheet of foil on a cookie sheet.
Sprinkle the cheeses in between each cut using a knife or your fingers to push it all the way down. Do the same with the bacon pieces.
In a microwave safe bowl, melt the butter. Add in the garlic, olive oil, finely chopped parsley, green onions, and dried mustard to the small bowl with the melted butter.
Stir it up then drizzle it over the bread, taking care to get it down inside the cracks.
Wrap the foil around the bread and bake it for 10 minutes. Unwrap the top and bake for another 10 minutes for cheese to get bubbly.
Serve warm and enjoy!