This post contains affiliate links for product on Amazon. If you make a purchase, you're helping me run The Culinary Compass. Thanks for your support!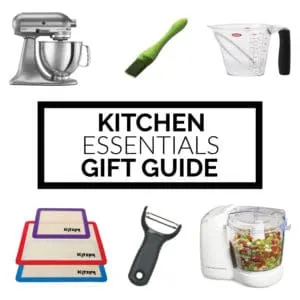 Somehow it's already time to buy Christmas presents even though I swear I was just talking about how excited I was that the leaves were changing colors. Between fall and the holidays time must speed up because it's my absolute favorite time of year. There's never enough days to go apple-picking or make gingerbread houses!
If you're like me, this time of year is also non-stop. Between work, friends, and family, my schedule is jam packed with activities leaving little time to actually go shopping. Shoutout to online shopping for saving me trips to the stores and battling the crowds!
So if you're looking to cross a foodie or a kitchen novice off your list, I went through my kitchen and picked some of my favorite items. You'll find basics to help furnish a recent college grads kitchen to higher end products for those hard to buy for relatives.
I'm also not sponsored by any of these products, they're just things that I love to use while in the kitchen.
Hover over the picture for product links or scroll below for links.
KitchenAid Mixer | Mesh Strainers | Peeler | OXO Measuring Cup | OXO Garlic Press | Microplane | Silicone Brush | Nordic Ware Aluminum Baker's Half Sheet | Vitamix Blender | Le Creuset 2 Quart Dutch Oven | Food Thermometer | JA Henckels 8-inch Classic Chef's Knife | Silicone Baking Sheet Mat Set | Food Processor
My Favorites
KitchenAid Mixer – I've got a girl crush on this thing. I know it's not essential, but it makes things sooo so nice. Shoutout to all of the attachments too. The pasta maker makes my life!
Microplane – I think I originally bought this as a citrus zester and this Microplane has proved it's worth time and again. My family loves using it for grating parmesan on basically every meal that parmesan is appropriate. I love how skinny it is so it fits in the drawer too!
Vitamix – Again, not essential if you're just furnishing your kitchen, but if you're in the market for a blender. Check this one out! It's so powerful and makes the best smoothies!
OXO Measuring Cup – Is it weird to love a measuring cup? Because I love this measuring cup. Something about just being able to look down while you're pouring and seeing how much is in there is so nice. No more of that guessing and eyeballing to only realize you have way too much or not enough which then results in way too much. Break the cycle!
JA Henckels 8-inch Classic Chef's Knife – I got this knife about a year ago after using a chef's knife that came in a butcher block set. Life changes when you use a good knife! Not to mention it's a lot safer using something that isn't dull!
Silicone Baking Sheet Mat Set – GAME CHANGER. I used to scrub bottoms of cookie sheets and this thing has ended that completely. Now it's not even a worry to grease or not grease cookie sheets no matter what you're cooking. Anything that makes doing dishes easier is top notch in my book.
Food Thermometer – I don't know about you, but I'm super particular about making sure meat is done. This food thermometer is perfect for sticking in your pork loin or chicken breast while it's in the oven and letting you know when it's done. It's one less thing to worry about while making a meal!
Le Creuset 2 Quart Dutch Oven – I think everyone who loves to cook deserves a Le Creuset. I bought myself this as a present and just love the color and the fact you can use it for just about anything!
So with that I hope you have found a few ideas that helped you out this holiday season! Enjoy the extra time you saved by not going to the store with your friends and family!
Happy cooking!
Sam